Today, a question for the leaders: What do you really want? Plus, the "forever WFH movement" has landed. And to wrap, our very own Patrick & Neel share their take on this week's global developments.
Listen wherever you get podcasts:


How is the B2B SaaS market trending?
---
📈7 day +0.98% | 📈30 day +2.18% | 📈90 day +3.96%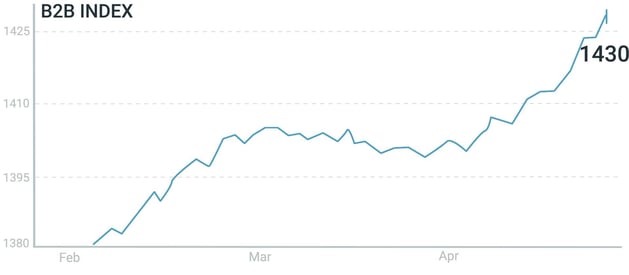 Good news for the B2B SaaS crowd—we're still on the up.
We see a steady increase in the overall index, with a 0.98% positive change over the last week. And percent change over the last 90 days is at a positive 3.96%.
We've seen B2B protected a bit because it's notoriously a second order impact vertical with lots of annual contracts. We also see new revenue for B2B continue to accelerate, today at a positive 6.37% change over the last 24 hours.
How are churn and new revenue trending over time?
---
MRR LOSS -0.29%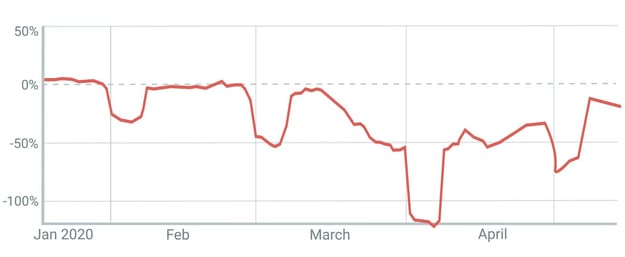 ---
MRR GAIN +6.37%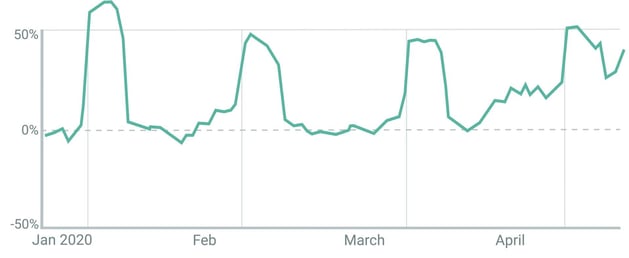 Remember to check your subscriber newsletter regularly for everyday updates to your B2B SaaS Index overall, plus a look at how MRR Gain (i.e., upgrades and new revenue) as well as MRR Loss (i.e., churn) are trending.
You can also share the data with friends, colleagues, and fellow industry players that could use it right now. Send me their email address to abby@recurnow.com and I'll get their name on the list. Or they can subscribe directly at index.profitwell.com.
Happenings in the B2B SaaS space

Founders & leaders: What do you really want?
If you could go back in time, what advice would you give your former self?
It's a question a lot of us ask, and oftentimes the answer is "nothing." That there was always a purpose for the shitty times... that we had to really go through it to get through it.
Colin Hewitt, CEO and Founder of Float, the cash flow forecasting tool for small businesses, reminds us of this question in an article he wrote on Medium. It's a great post for everyone, really—both personally and professionally—who has found themselves at a fork in the road. (And I think this pandemic in and of itself has defined a fork for virtually all of us.)
Within the post, Colin says he's finding an opportunity to pause. And to answer questions like: Do I still want this? Is this business taking me where I want to go? Can I still see a "preferred future" that's exciting and energizing? If I didn't have to do this—what else would I do?
Because Colin says he's found the question of "what do you really want?" to be one of the most difficult to answer.
---
"Getting clear on what you want next is what you need now."
---
In the post, he nods to various essays, talks, and quotes he's been impressed by as of late—like Charles Eisenstein's The Coronation—but I'm just as moved by Colin's take.
Here's a passage that hit home:
"I'm choosing to look at this season as a massive opportunity to change and explore, the patterns that I've fallen into, and look for ways that these don't serve me any more. I'm choosing not to watch the news every day or think about all the things that could go wrong. Instead, I'm trying to give as much time to break my normal patterns and do something different."
Colin says a few friends have reminded him of the importance of self-compassion in times like these. Because it's easy to be hard on yourself. It's easy to see things in hindsight that you could have done better. (I am considerably guilty of this one.) But it's not helpful to focus on that right now, he reminds us. Instead, getting clear on what you want next is what you need now.
Click here to read Colin's post in Medium.
Work-from-couch (forever...)
And now, I revisit the WFH movement.
About a month back, I asked you all about which remote practices you hope will remain in place, once companies start returning back to in-office collaboration. I received some great answers—from cats as coworkers, to diversifying what the modern workforce looks like at its core.
It turns out, the answer might just be: all of the practices.
Because Twitter is reportedly allowing employees to work from home—forever.
And this could be the start of a mega-trend. Google, Facebook, and several others have already made WFH optional until 2021. And apparently, Twitter is in it for the long-haul. But the effects of long-term WFH aren't so clear, say the journalists at Robinhood Snacks. "So we really don't know how it might affect company/employee success."
And Forbes claims, there's a catch.
---
"Twitter's new policy may be a watershed event that helps make the lives better for millions of workers, but also hurt the careers of many people too."
---
Although we're not huge into commenting on topics around remote (because we tend to lose friends over it) we do know it's important. And we compiled data from over 3,000 subscription and SaaS companies to uncover whether or not remote teams were growing slower than their co-located counterparts. (If you're on the edge of your seat, you can head here to see what we found.)
What are your thoughts on these extended remote-work mandates? Would you get on board? Or would the thought of indefinite Zoom push you over the edge? I'd love to hear your intel. You can reach me at abby@profitwell.com for a healthy dose of conversation.
Protect the Hustle B-side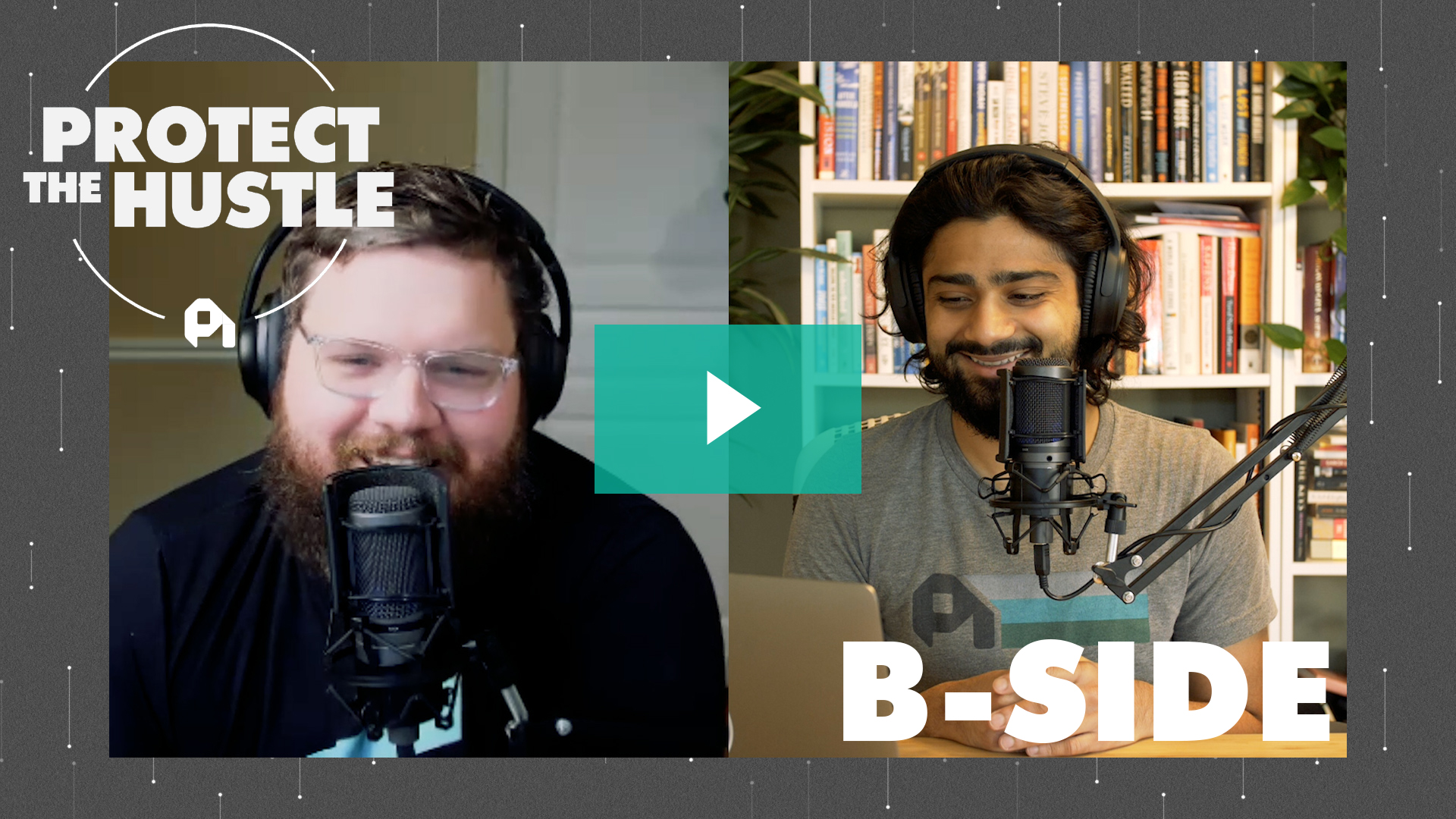 We have another segment for you, from our series Protect the Hustle B-side—during which Patrick Campbell and Neel Desai share their takes on the latest in global developments. This time, the duo discusses the stunning news about Banjo's former CEO, WeWork's hypothetical growth, and wins & fails (both internally and externally).
Head to protectthehustle.com for all episodes in full.
---
ProfitWell featured user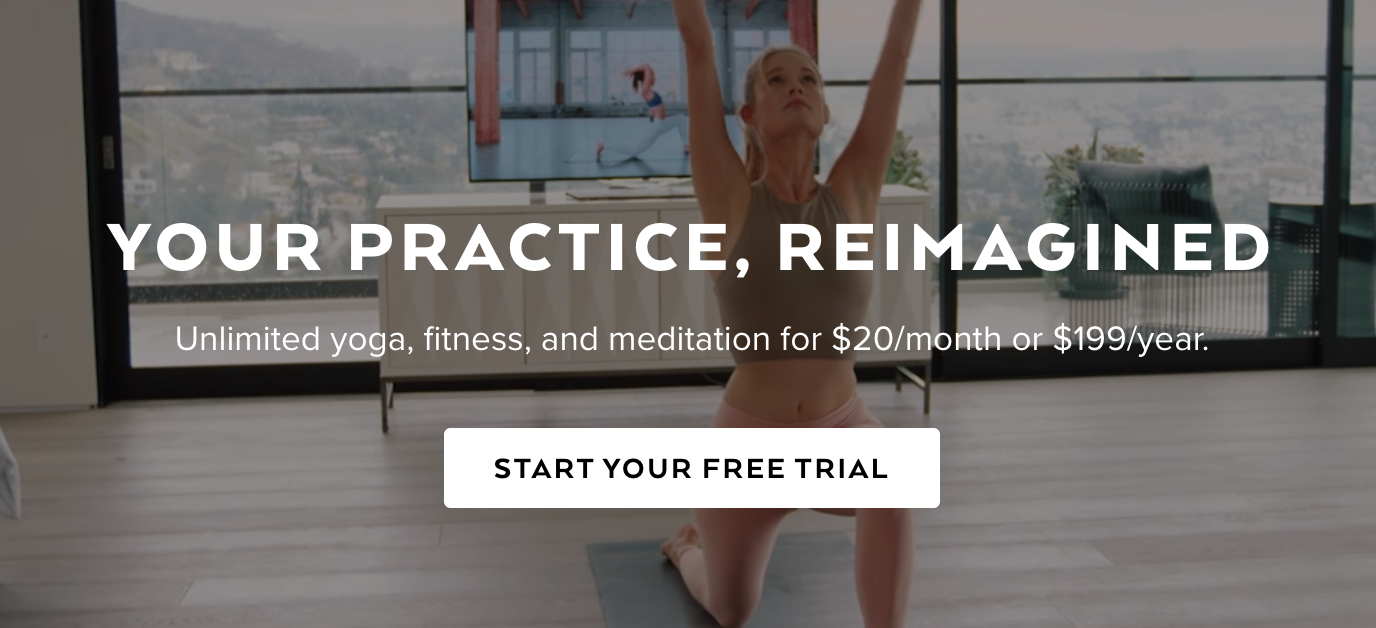 Today's featured user is Alo Moves—your at-home studio and your practice, reimagined.
Alo offers the best in online yoga, fitness, and meditation classes, with thousands of videos from yogis and meditation experts to Pilates pros.
This one excites me because you can actually be a beginner to get involved (or, if you want to perfect your existing routine, that's cool too). You can get a full studio experience at home with thousands of classes for body, mind, and spirit.
Because we could all use a little more remote zen right now. Click here to get moving.
---
That is a wrap on your May 14 news. We'll catch you right back here tomorrow with more.
Remember, we're launching a weekly version of Recur Now, a newsletter with a roundup of the best in each week's news. If you want in on that, reply to me at abby@recurnow.com and I'll get you on the list.
This series is a Recur Studios production—the fastest-growing subscription network out there. If you find use for this show, subscribe for more like it at profitwell.com/recur.