In this episode, we're diving into (and deleting) your delinquent churn. Plus, we see a not-so-surprising boost in demand for Deliveroo and Netflix. What does this mean for other businesses, though?
To wrap, a bit on generational stereotypes in the workplace. They may not be as prominent as you'd think...
Thumbnail image by John F. Malta, New York Times
Listen wherever you get podcasts:


Your top subscription news
---
Debunking the confusion on delinquent
We're going for a dive.
Into delinquent churn that is…
Because subscription ecommerce companies are losing thousands of dollars per month due to credit card failures—and, most of you aren't really doing anything about it.
So our very own Patrick Campbell and the Subscription Trade Association (SUBTA) Co-Founder, Christopher George, are breaking it down in a live training webinar today at 2 p.m. EST. They'll pinpoint exactly where your ecommerce business is likely getting it wrong and give you an actionable framework on how to actually fix it.
There will also be plenty of time, as always, for Q&A to get your burning churn questions covered.
At ProfitWell, we've constructed the largest churn data set in the world (from 17,234 companies to be exact) while SUBTA is, hands down, the leader in bringing the subscription ecommerce community together. So this is a training you really won't want to forego.
There are a few spots left. You can sign up here. See ya this afternoon.
COVID-19: Are we helping? Or hindering?
We're seeing platforms like Netflix and Deliveroo surging in demand during the COVID-19 craziness.
Food delivery and digital subscription services are benefiting the most from the outbreak over in the U.K. (a trend that's creeping its way over here), according to a survey by payment provider Barclaycard, which recorded growth of 12.4% among subscription entertainment services such as Netflix and Now TV, while takeaways took off with sales growth of 8.7%.
But with these wins, we see many losses.
Looking at the COVID-19 outbreak statistics, it's clear to see that it has created a colossal loss for so many. It's expected to significantly impact global ad spend overall, while accelerating existing moves toward utility, ecommerce, and live streaming, and we're here wondering: "How do we short-circuit the length of the economic downturn and start to pick ourselves back up as a global economy, after the acuteness of the virus?"
Amanda Northcutt over at the Subscription Coach—a company that helps optimize SaaS, subscription, and online membership's with things like marketing, sales, and retention—brought this very question up to me this week.
"How do we move forward now (practically speaking) with so much uncertainty? And is there a way we can pool thoughts on this from smart/informed people?"
So I'm using this show as that very outlet. Email me at abby@recurnow.com with your thoughts on this one and we'll share responses in the show. Because if we're not helping each other, aren't we hindering?



Collaboration across generations
We wrap this episode with a bit on generational stereotypes in the workplace. Apparently the gap may be smaller than you think.
Matt Zdun over at Siege Media sent us an infographic on this one. For the first time in history, he highlights, five generations (from Gen Z to the Silent Generation) work side by side. And there are tons of stereotypes around them—that older generations are more satisfied, more committed, less likely to leave, etc.—that are actually not true.
The visual debunks these and offers tips for generations, old and young, to work together in bliss.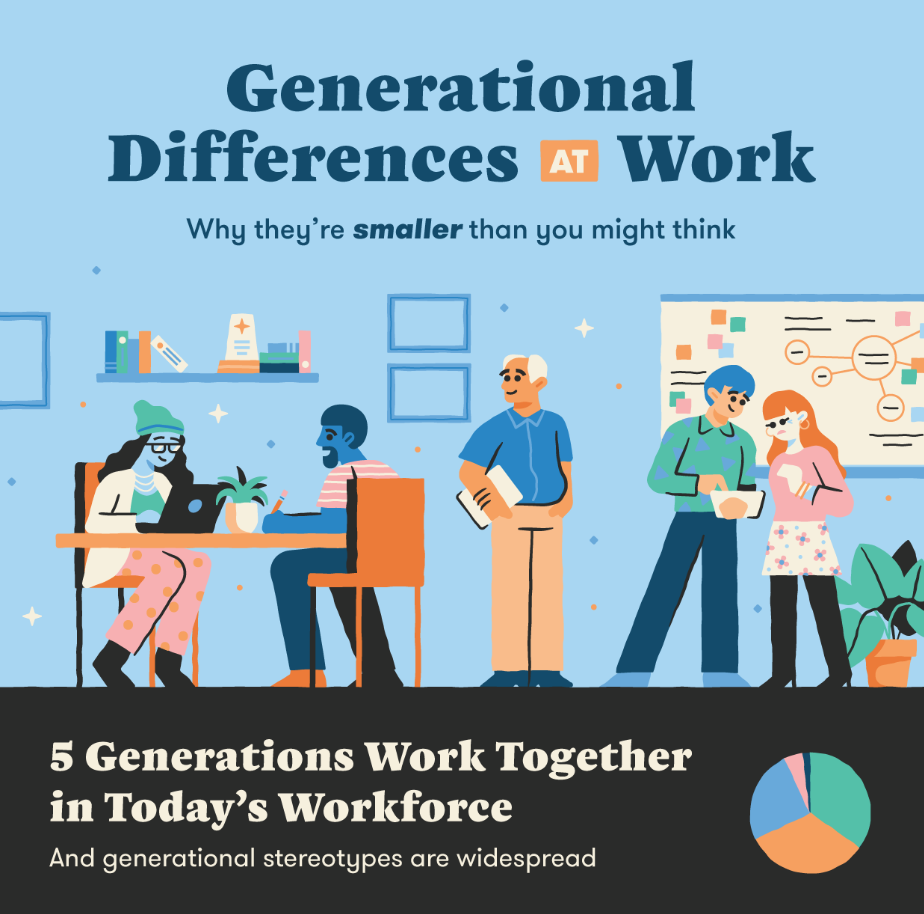 There's no doubt that baby boomers, who lived through the Civil Rights Movement, the first moon landing, and the war in Vietnam, have a different worldview than millennials, who were shaped by events like 9/11 and the arrival of the internet.
However, do those differently-lived experiences affect the ways in which different generations interact with one another and perform at work? Are generational differences in the workplace all that significant? Or do all generations typically value the same things? And what about the current pandemic we're living through? (That's sure to shape something, right?)
As a business owner, these are questions you can't really ignore. You need to make an effort to understand which generational differences are significant and which are perpetuated by stereotypes.
This piece is great because it answers just that. So you can take measured steps where need be to reduce generational bias in your own workplace.
What are your thoughts in this space? Are generational stereotypes a problem? Or are we closing that gap, one international pandemic at a time? Please, email me at abby@recurnow.com with your thoughts on this one.
---
And there you have it, your March 19 episode of Recur Now. If you are not already on the list to receive daily episodes, head to recurnow.com to sign up. Stay healthy.
This has been a Recur Studios production—the fastest-growing subscription network out there. If you find use for this show, subscribe for more like it at profitwell.com/recur.