With more and more companies either already sharing content or planning on creating more—a common question comes up: is all the creativity, planning and budgeting that comes with content marketing… worth it?
We're going to let our data answer that one for you.
Listen wherever you get podcasts:



Content is king 👑
We're surrounded by content—with the U.S expected to see more than 31.7 million blogs in 2020. That's a lot of reading. Additionally, adults in the U.S. will spend an average of five hours and 31 minutes watching video everyday this year.
With content on a pedestal—we now have a new gold standard in marketing: content marketing.
Despite the undeniable growth—you might be wondering, does content marketing actually work?
It certainly does. And we have the research from more than 3,000 companies and 30,000 customers to back it up. First, we'll look at content customer acquisition cost, or CAC, and how retention is much better for companies producing content. Then, we'll dive into our data on how content drives growth. Finally, I'll leave you with some helpful tips on how to optimize the content you create.
Content = better retention rates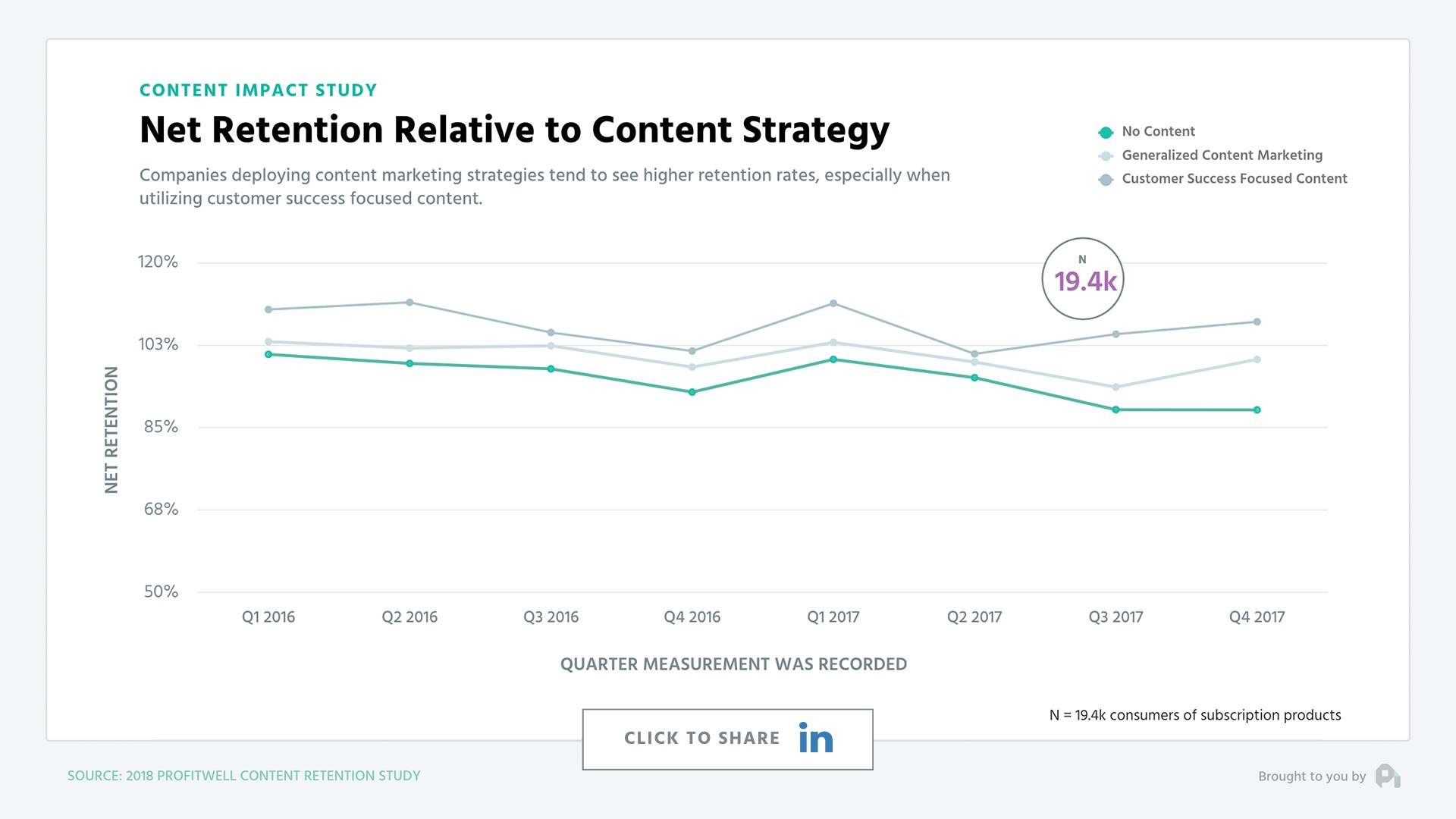 Content CAC, or customer acquisition cost, is 15% less than paid CAC, according to our research. This number suggests efficiency when it comes to an inbound marketing strategy.
However, content CAC is growing at a quicker rate than paid CAC—so, that 15% gap may close. This still doesn't take away from the tremendous impact content has on retention.
Retention is 5-10% better for companies deploying content, especially when that content is more customer-focused. Content adds to your brand, trust, and surface area since it can live on your site forever. Paying customers reap the benefits of your product, but with content, they have an added layer of entertainment and education—enticing them to stay with you longer.
Now, let's get to our next data point: content marketing driving growth.
Content drives growth rates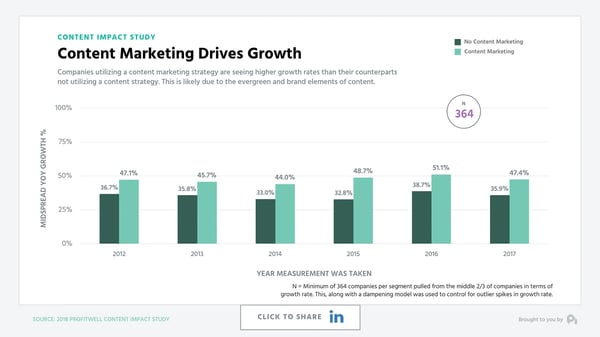 Companies with strong content see a roughly 30% higher growth rate than folks not using content marketing.
Companies with a blog tend to receive 67% percent more leads than those without a blog, and 47% of buyers will view three to five pieces of content before speaking with a sales rep. Content results in more growth because it brings more customers to your brand.
In this day and age, customers hold the power, that's a good thing. But, with this power, it's up to companies to deliver. If you want your content to reach the power of the customer—focus on brand, education, and a great user experience.
This brings us to strategy—a strategy to make the most out of your content.
Tips and tricks
We know content marketing works—here are some things to consider when making your own content.
Play into your strengths. What's your company's area of expertise? Take this area and share educational content with your audience. At ProfitWell—data is our superpower. Our audience loves data—because data doesn't lie. If you're sitting on research, share it!
Understand your audience. Who are you creating this content for? An important step here is to properly position your content before creating it—knowing your audience will help you make more relatable and successful content.
Take advantage of multiple channels. Make videos, podcasts, newsletters, SEO blogs—and be sure to promote it all on social to engage with your audience.
Takeaways
Content marketing is undeniably successful—our research shows that content-creating companies see 5-10% higher retention than those without content. Additionally, content companies see 30% higher growth rates.
The data doesn't lie. If you're not creating and sharing content, it's time to get started.
One last thing to remember—not every single piece of content is going to be a home run. Sometimes, you will swing at fences—and that's okay. Make content with the intention of improving each time.
If you have any questions about content marketing or if there's data around a topic you'd like me to breakdown, send me a note at grace.g@profitwell.com.
For more on content marketing → click here
---
How is the B2B SaaS market trending?
📈7 day +0.97% | 📈30 day +4.18% | 📈90 day +14.15%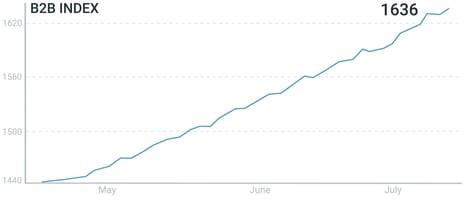 How are churn and new revenue trending over time?
---
MRR GAIN -0.01%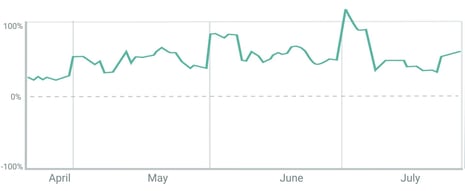 ---
MRR LOSS -1.01%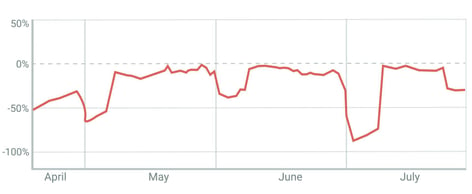 The B2B SaaS index is valued at 1,636 points with growth increasing 0.97% over the last week.
Let's break it down in terms of upgrades/new revenue and churn.
The MRR Gain Index has gone down—brace yourself—a whopping 0.01% in the last 24 hours. MRR Loss, on the other hand, has gone down 1.01%—seeing just a little more loss today.
Be sure to check your subscriber newsletter for regular updates to your index.
You can also share the data with friends and fellow industry players that could use it right now. Send me their email address to grace.g@profitwell.com and I'll get their name on the list. Or they can subscribe directly at index.profitwell.com.
---

Just do the damn thing
This year, video content is more important than ever to consumers. This is according to an article released by HubSpot with research showing how video consumption habits are changing.
What this means for you: marketers and companies need to be leveraging video in their marketing strategy. Content and videos will continue to evolve.
One of the most valuable takeaways from this research is the point that consumers don't care if your video looks like it has a big budget. There's a common misconception that marketing videos need to include big names and shot in a high-priced studio. But—low-budget videos can still be effective as long as viewers feel entertained or learn something new.
My advice here, don't let budgeting hold you back—just do the damn thing. Creating videos will boost your level of brand awareness—giving your company more exposure. And, when making content, remember it's all about repetition, the more you make it, the better you'll get at it.
To read more of HubSpot's research on video marketing → click here
---
A culture for the generations
How do you create a culture where millennials and Gen Zers want to stay with your company?
Amanda Goetz, current VP of marketing at The Knot and also a builder of brands and former founder, spared some advice on twitter about retaining Gen Z and millennial employees.
Companies want to retain millennials & Gen Z?

Create a culture that embraces the passion economy & the rise of the solopreneur.

Passion is not zero sum. Studies show having a creative passion project will increase morale, innovation and problem solving.

5 tips below ⬇️⬇️⬇️

— Amanda Goetz (@AmandaMGoetz) July 29, 2020
The first—be clear. Call out your company's policy on side hustles. Moonlighting has a negative stigma, but many of your millennial and Gen Z employees have side hustles so it's your job to remove that stigma.
Another point I liked—outcomes are more important than output. Amanda says the 9-5 workday is dead. Have clear goals, clear strategy, and allow employees to optimize their day accordingly. She suggests creating a 10:30–3:30 core day for meetings to occur.
And finally, speaking of meetings, have proper meeting hygiene. A culture with too many meetings is a red flag. Creators should be creating, not meeting.
If you have any comments or thoughts on company culture, I'd love to hear from you. Send me a note at grace.g@profitwell.com and let's chat.
Lots of our friends in the SaaS and tech space interacted with this thread. To view Amanda's full thread → click here
---


Today's featured user is GoSite—the easiest way to connect your business with more customers.
GoSite is a software suite, making it easy for customers to find, engage, book and pay for services online. GoSite has helped more than 5,000 businesses connect with new and repeat customers.
Whether you're a franchise, an individual business, enterprise, or anything in between, GoSite has a solution for you.
To learn more about GoSite → click here
---
That is a wrap on this week's B2B SaaS happenings. Catch you back here next time with more news and more data. Make sure you're subscribed at recurnow.com or wherever you listen to podcasts.
If you have news to spread or resources to share with our audience, you can always connect with me at grace.g@profitwell.com to get the good word out there.