Today—and quite frankly, every day—content is queen. We're talking all things content marketing (even if you're a skeptic, listen on). Plus, Millennials and Generation Z-ers get hired, but, differently?
Your top subscription news
---
Generation Z x Millennials for hire
It's clear we're amid a societal shift in the workforce, with Generation Z and Millennials shaping the way we work. And Zenefits—SaaS for managing human resources—is highlighting that change on its blog, deemed Workest.
The "traditional" workday may be stuffy, lacking in flexibility, and barely able to keep up with advances and booms, and new questions we're asking ourselves. So the next question lies: As the workforce changes, does the way we hire talent change?
In this piece from Workest, we hear ways in which you can shape your business to fill the upcoming demands and incoming labor pool, like rethinking how you write job descriptions or turning toward perks.
"If you want someone younger than 28, give them kombucha… If you want someone over 28 give them family plans, a 401(k) plan, and flexibility."
Although I agree with a lot of what this post says, I'm not sure how I feel about the above. It sounds a bit surface level.
But the blog points out that what might sound like frivolous, food-focused nonsense perks are actually what companies like Google, Facebook, and Amazon use to attract the young talent that's pounding down their doors.
For younger generations, perks like catered lunches, excellent medical benefits, and flexible work policies matter.
What I'm totally on board with is the mention of updating your hiring strategies to boost retention. Because contrary to popular stereotypes, Gen Z-ers and Millennials don't like to sit around waiting to be useful. I think one of the ways hiring teams can address this from the get-go—and boost retention in the process—is by ensuring their onboarding process is informative, useful, and continuous.
The post also considers the idea of how you integrate newbies into office culture, in that the first months' time is crucial for check-ins and making sure your new hires are on the same wavelength with fellow teammates.
Robert Half, the oldest and largest specialized staffing agency in America, put together a 24-page report titled: Here Comes Generation Z, and uncovers some fascinating facts.
The Gen Z preferred work environment lies with a small group in an office setting.
74% prefer to communicate face to face with colleagues.

And 30% would take a 10 % to 20 % pay cut to work for a company with a mission they care deeply about.
We might get a bad rap, but we're harmless (and quite dedicated).
And I'll be interested to hear what our audience says in this realm. Do you agree that approaching a Millennial or Gen-Z hire is a different beast than a Baby Boomer, per se? We three simply represent two of the classes here, and I'd like your input, regardless of which group you're categorized in. Email me at abby@recurnow.com with thoughts.
Content marketing, meet everyone
Content marketing has become the gold standard in marketing, as a way to help prospects and customers understand your business, the problems you're solving, and giving them value before they've even considered purchasing from you. The growth of content is also undeniable with the U.S. about to see nearly 30 million blogs, and the entire world roughly five times that.
Developing a voice and brand identity is crucial for bloggers and all forms of online writing, because your content strategy can fundamentally be who you are.
Learning from fellow bloggers who have set themselves up to nail it will help establish huge value in your own strategy. Consider an article by blogger Ryan Robinson, which features 40 top bloggers sharing their best blogging advice.
A few pulled quotes of advice we're especially digging:
"Ask yourself what you have of value that you can bring the world through your blog."
"Don't blindly follow the blogging advice you hear. If something you're told conflicts with what's important to you, stick to your own convictions."
"Figure out what you personally stand for and jump straight in."
Don't wait, start right now—47% of buyers still view three to five pieces of content before engaging with a sales rep, companies with blogs still get 67% more leads than those that don't, and inbound close rates are still eight to 10 times those of outbound efforts.
Mastering content is at the forefront of what's buzzing right now in industries across the board.
Crowdsourcing with the Sprout Social crew
Sprout Social drops a piece on how to use social media crowdsourcing successfully, highlighting an example of crowdsourcing that shows the effectiveness quite seamlessly—straight from the gurus at Netflix themselves. Jarett Wieselman from Netflix sent out the following tweet asking people what they mean when they say "Netflix didn't promote the (cancelled) show," which garnered hefty results, ultimately for company and user benefit.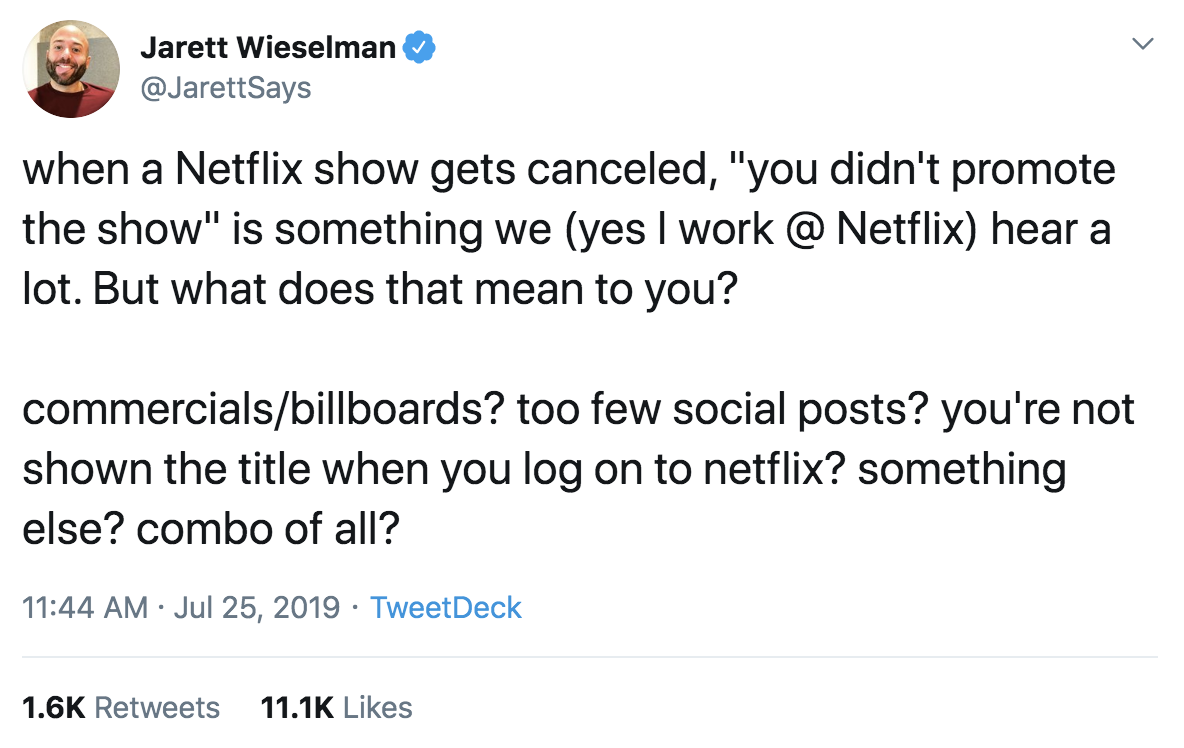 And you are likely a participant of crowdsourcing, whether ya realize it or not.
It's the process of collecting ideas, services, and/or content with the help of contributions from a large number of people. The "crowd" in crowdsourcing typically refers to third-party entities that are unrelated to the business that's conducting it. When crowdsourcing is done on its own accord, we see it working its finest magic. We can gauge users' likes and dislikes amid their unfiltered opinion.
Why is it important? The look into the unfettered user experience has been an untapped key in marketing until recently. It serves as personal metadata that's valuable when measuring human data because it puts you closer to the humanistic qualities of your user.
For those interested in knowing their customers better (which should be everyone), crowdsourcing should be leveraged to benefit customers directly.
Check out the Sprout Social post for an even more in-depth analysis here on the "whys" of crowdsourcing and how to implement. As always, we'll send a link along in your subscriber newsletter.
The ProfitWell Report: Is content marketing dead?
---
Clearly not, if you've paid any mind to today's episode.
Think of it this way: If the cost for me to give you a dollar goes from 10 cents to 25 cents, you'd be insane not to still pay me for the dollar. Content is maturing, but the ROI is still amazing.
Check out this episode of the ProfitWell Report for the full, data-filled insight. Plus, a bonus ep.
Subscribe to get the data
(and never see this form again)
---
And that's a wrap for your November 20 subscription news. Recruit your teammates into the subscription know: recurnow.com to sign up for episodes on the daily.
If you have news to share, hit me up at abby@recurnow.com and we'll collaborate.