Today, we welcome the newest unicorn to the subscription space. We're also eyeing a Twitter thread from a VP at Bain Capital—on the funnest facts in consumerism. And finally, it's time for a rebrand. We have an interview with marketing transformation-driver, thought leader, and mentor James Sivis from Wonderlic on why.
Your top subscription news
---
ClassPassed to unicorn status
ClassPass is officially a unicorn, after raising $285 million in funding from the same investors that poured their funds into Peloton and Equinox.
Not only that, but they are the latest female-founded startup to achieve that $1 billion valuation.
I, personally, am a ClassPass fanatic. The model is genius, with a way to purchase credits for classes that normally cost upwards of $30 for a 45 minute session, plus on-demand fitness for those who want it at their home base. It's accessible fitness, but now it's also a global operation—which has expanded internationally to operate in 28 countries, grow their corporate wellness offerings by signing 1,000 employers, and continues to add wellness activities like facials and massages to its portfolio.
During its initial launch the ClassPass crew offered a $99 per month subscription, which gave customers access to an unlimited number of fitness classes in New York. Today consumers now pay between $15 and $199 a month for credits of varying value, that are then redeemed for classes. So is this change in pricing based on a change in value metrics?
The subscription market is international and diverse. And we know how crucial it is to choose the proper value metric in your space. But it can be incredibly difficult to try to assess this collection of numbers and figure out where to begin.
You might be tempted to pick a metric to measure arbitrarily or to choose one that makes your company look good, resulting in misleading results to drive your company off course. Or, you might think you need to measure everything, but feel daunted and put off measuring anything at all.
There is no one perfect metric to use all the time, and you can't measure every metric at once. Different things are going to be important at different stages of your company's growth.
If ClassPass is able to charge a higher subscription price for those fitness loyals, and customers are happy, more power to them. Not to mention we're pumped to see more fierce female CEOs pave the unicorn way.
A consumer's year in review
Next, we're looking at a tweet storm by Magdalena Kala, a self-proclaimed "equal opportunity capitalist" and consumer PE by day, seed/series A by night (in other words, a VP at Bain Capital in consumer, retail, and restaurants).
In the first of a dozen tweets she writes: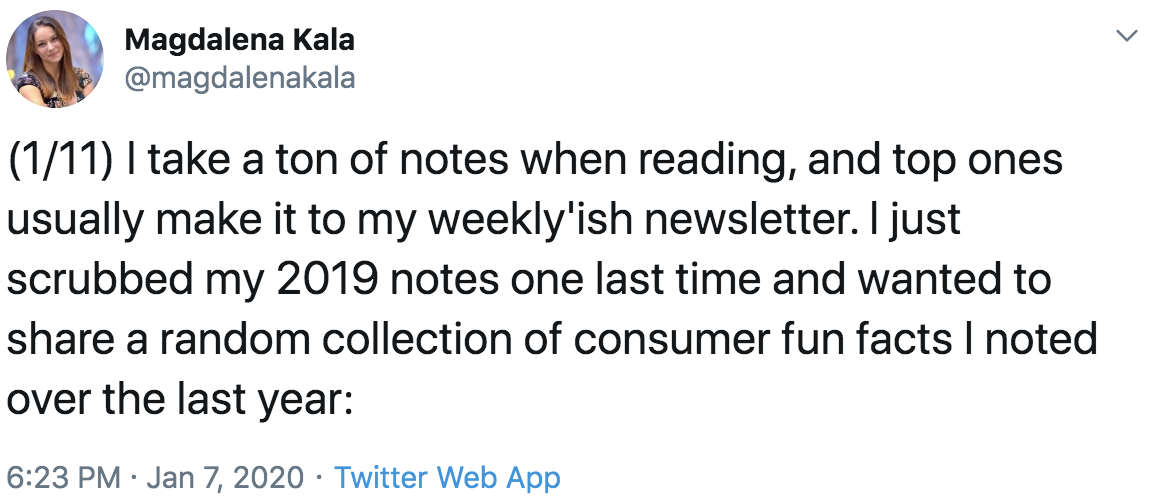 We got sucked into this one big time, and here were a few of our favorites.
Apparently, shoppers return 5 to 10% of what they purchase in store but 15 to 40% of what they buy online.
79% of alcohol consumers say they've made at least one drunk purchase, with an average spend per drunk shopper at $444.
Over half of Americans have listened to a podcast at least once; however, on average, podcasts monetize at only $0.01 per listener, which is 10x less than radio.
And we've got a close eye on that last one. We know podcasts cost real time and money, but here's the thing: they're worth it. We have a ProfitWell Report with data from 2,400 subscription companies to answer the question: How do podcasts impact growth? (We reveal that later.)
Magdalena has more solid facts to share, so be sure to read the full thread.
It's time for a rebrand
The folks at Wonderlic—a platform that provides proven objective and job-tailored pre-employment assessments so you can hire with data—recently underwent a supercharged rebrand, during what they're calling: a new era.
Because they say they needed their brand to represent an inclusive, science-centric attitude. And now, they've got one.
But why prioritize a rebrand when there's so much in marketing to address? Do the effects outweigh the time and resources it takes to revamp your image? To discuss, we have James Sivis here, Wonderlic's VP of Marketing.

Thanks for joining us, James. You're a relative newbie to the Wonderlic team, but certainly not the marketing space. When you signed on to work with Wonderlic, why the swift rebrand?
"This is the image that you're giving to the world. This is the messaging you're giving to the world... For me, it was immediately evident what had to change. And we did it, soup to nuts... Because marketing isn't a pinpoint approach. That's why it's called 'integrated marketing' or 'full-stack marketing.' Because you've got to pull a host of different levels and they work in concert with one another."
It's interesting because, too often with branding, you forget to take a step back with a critical eye on your own brand. Why would somebody take this step back? Why would you encourage them to do so?
"I gave a talk a number of years ago in Chicago to other marketers and one of the prefaces of the talk was: Don't come to me in two years and say 'Hey James, you said this.' Because it's going to change by then. And that's exactly it: Nothing is static.
You have to constantly invest in yourself and you have to invest in your company, otherwise you're the one with the beehive hairdo. And I see that when I'm looking to hire marketers all the time, that they've let their skillsets go stale."
Because James knows things are constantly changing. They're improving all the time and the bar is getting raised.
"Gone are the days you have a salesperson in front of a customer. In the SaaS world, they're getting their entire impression from what they see online… And so, that's your time—to either capture them in those few seconds or lose them."


Check out Wonderlic's branding before and after the revamp (linked accordingly)—and we'll be sure to keep a close eye out to see what this rebranding magic will do for them.
How do podcasts and video marketing impact growth?
---
Podcasts and video marketing have exploded over the past year with marketers around the globe talking about how intensely powerful rich media can be to their brand, their sales process, and ultimately, their growth.
Creation costs money and takes a bit of a financial leap of faith (as well as resources to actually implement) not unlike the content marketing leap of faith made over a decade ago.
To see if podcast and video marketing are worth the investment, we took a look at the data from 2,400 subscription companies. Here's what we found.
Enter your email and get fresh data every week.
(Feel free to skip this on the lower right)
---
And that's a wrap for your January 13 subscription news. Recruit your teammates into the subscription know at recurnow.com to sign up for episodes on the daily.
If you have news to share, send me a note at abby@recurnow.com and we'll collaborate.