Today—the hard truth, a remote challenge, and a bootcamp that'll kick your butt into gear. Plus, a deeper dive into the numbers behind what shapes the ProfitWell Subscription Index.
Listen wherever you get podcasts:


How is B2B SaaS growth trending over time?
---
📈7 day +0.46% | 📈30 day +0.59% | 📈90 day +4.02%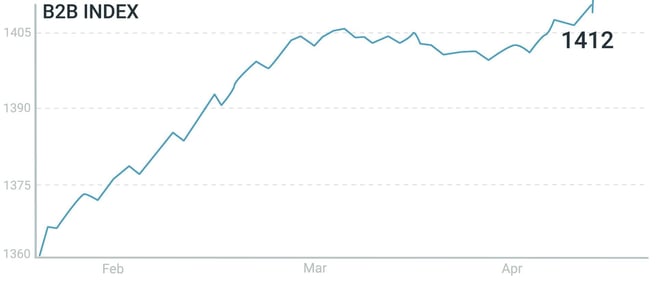 Yesterday, we officially launched our ProfitWell Subscription Index, a measurement of how the B2B SaaS market is growing or shrinking over time—and today, we're diving into the numbers a bit further.
Before the global crisis, we'd seen pretty steady growth, at a 2.5% increase in January and 1.9% in February of 2020. By March 15, the market had grown 5.3% since the start of the year.
Unsurprisingly, though, that growth flatlines beginning in mid March, as the world deals with a global crisis. From March 15 to April 7, the market declined about 0.12%.
The flatlining began around March 15, and continued through the first week of April. So far, the market has rebounded 0.8% in the three weeks since April 7, which is slower growth than before the downturn, but does tentatively appear to be accelerating. It's too early to tell whether this marks the start of our recovery, but for now, we'll take what we can get.
Daily updates of the index can be found in your subscriber newsletter each day, so be sure to check back to see what's up in the B2B SaaS market—for better informed decisions on market spend, sales forecasting, and growth choices.
You can also share the data with friends, colleagues, and fellow industry players that could use it right now. Send me their email address to abby@recurnow.com and I'll get their name on the list. Or they can subscribe directly at index.profitwell.com.
How are churn and new revenue trending over time?
---
MRR LOSS +9.09%
(% change over the last 7 days)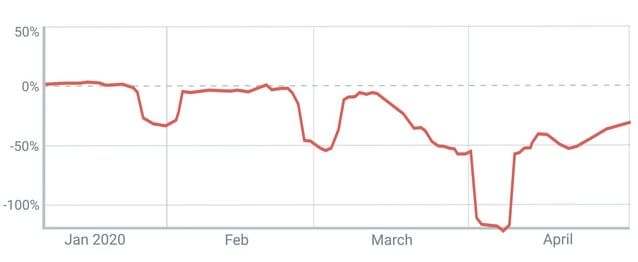 ---
MRR GAIN +3.68%
(% change over the last 7 days)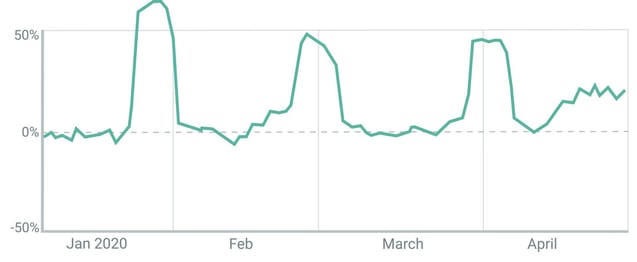 Now, what's happening in B2B SaaS news?

A recession is probably a bad time to experiment
"Don't talk about philosophy, mental health, economics, politics, ecology."
This is what Justin Jackson, Co-Founder of Transistor.fm and podcast host himself, has been hearing from folks in the space. Although, yes, he's heard some support of topical pivoting within his pod, he's also witnessed rejections of his veering from the norm.
The hard truth is, we're amidst an insane time. And podcast hosts Justin Jackson and Jon Buda say you can't really just ignore that.
They host a show called Build Your SaaS - bootstrap in 2020.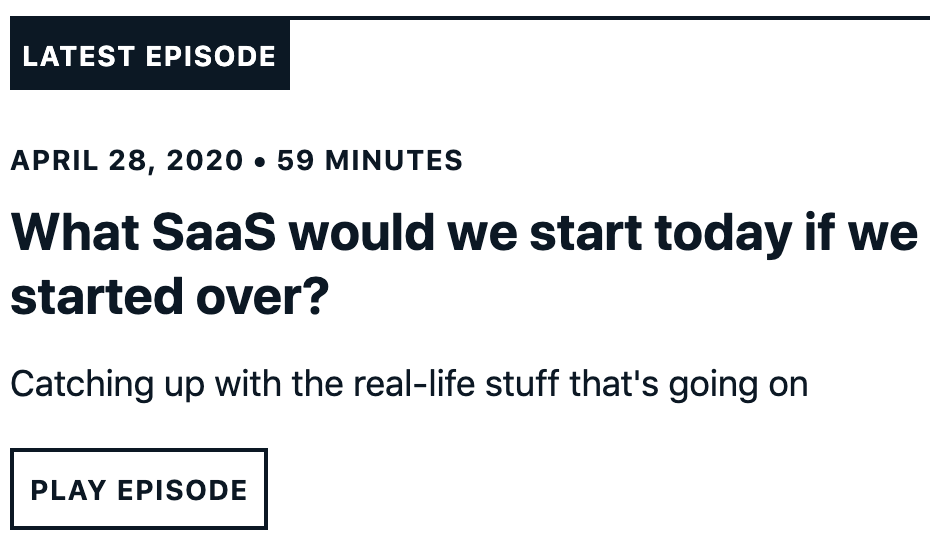 And in the latest episode, they pose a question: What SaaS would we start today if we started over? In it, they catch up with "real-life stuff going on," and gather a few takeaways on pandemic pricing (which I took directly from a Twitter thread by Justin).
Here's what he's saying (and how I'm personally responding):

I totally agree with this point. Our ProfitWell crew actually launched an entire Subscription Stimulus Package with 70+ companies because of this very reason. If your company is sturdy enough right now and has the ability to offer discounts, more power to you. That's what buyers are seeking out.
Next, Justin says:

This one, I'm not so sure about. I understand where Justin's argument is rooted, but we're of the camp that you shouldn't have a set-it-and-forget mentality when it comes to your pricing. There are crucial times to revisit pricing.
And finally:

This one, I'm in agreement with (for the majority). My hesitation lies in the last portion, about heeding competitors. In the realm of competition, we've actually uncovered some data that proves there are cases in which you shouldn't focus on your competition. But as Justin says, I tend to agree it's ultimately a case-by-case scenario and you should implement what's best for your business.
What do you think? Send me a note to abby@recurnow.com with your thoughts on any of these points. I always get the most insightful replies from our listeners.


Train your brain
If you're feeling like you need a productivity boost or simply a change of scenery (via your screen, that is) listen up.
Two bootcamps that'll kick your butt (in the most effective way)...
Product Led Hub put together its first ever PLG Bootcamp this month—to help center your product as a core of sustainability and growth. This one includes five days of training—May 18 through May 22—and the PLH team has thoroughly outlined what you can expect, with a day-by-day syllabi offered on their site.



The training sessions revolve around topics from customer success and support to engineering and product strategy—with titles like How to Build Your Remote HR Tech Stack and an AMA on Fighting Churn During the COVID-19 Crisis.


We're again eyeing what's up with Jay Acunzo, the marketing master that apparently never stops. He's offering an invaluable workshop right now, with sign up available through May 5 (a slightly extended deadline, so you'll want to get on that one). It's called the Alpha Class, a cohort of his Showrunner Sessions.



It's a hyper-specialized eight-week experience for podcasters, a workshop about rejecting commodity content to craft a proprietary experience instead. The goal: Make yours their favorite show. There are an incredible amount of layers here, of which Jay answers to in their entirety, with this extensive FAQ.
A feel-good bit
by Grace Gagnon
SaaStock's #remotechallenge went live this week, and we're already digging what we're seeing. It's a social media challenge to get teams to share their best stay-at-home tips with the remote community at large.
All you have to do is play filmmaker for a minute, record yourself giving a tip on working as you shelter in place, use the hashtag #remotechallenge, tag @SaaStock, and nominate five others to share their very own.
But, why enter? Because the people want to hear your valuable insight, of course. But also because each video serves as an entry to win a complimentary ticket to Remote, SaaStock's first-ever fully virtual conference this June. Winners will be announced as a SaaStock Instagram story on Thursday, May 7.
Good luck to you all! (On the remote tips and the remote grind.)


Reminder: Subscription Stimulus Package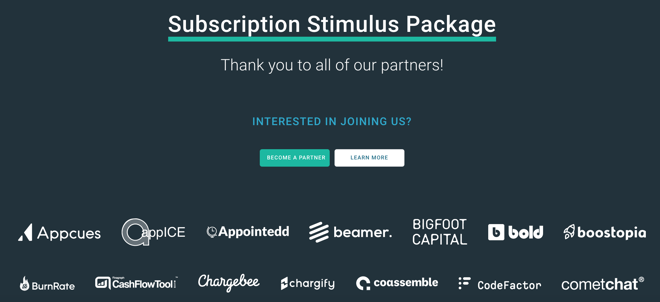 Click here for the entire list of partners.
PSA: Your Subscription Stimulus Package is still thriving and ripe for the taking. It's an initiative we launched with 70+ other names in the space, with room still for more partnerships, to help get our neighbors back on track during a time of uncertainty for so many.
If you're interested in up to 20% of your MRR in savings, head here.
If you're looking to partner with our crew and offer your own savings initiative, send a note to brian@profitwell.com for more on collaboration.
---
ProfitWell featured user


Today's featured user is Prezi, presentation software designed for non-designers.
The crew at Prezi is all about the science behind effective presenting. In a study of Prezi vs. PowerPoint, Prezi proved to be more organized, engaging, persuasive, and effective. Because our brains are hardwired for specific types of content—and the Prezi team specializes in that, so you can nail it every time.
And Prezi just launched Prezi Video, to help you work from home more effectively with video conferences and updates. You and your content, in real time—useful for internal communication, webinars, trainings, pitches, social videos, and video conferencing.
Because the Prezi team knows you have something to say. And they want to hear it.
---
There you have it, your May 1 special edition episode of Recur Now. Back to your regularly scheduled programming tomorrow.
This series is a Recur Studios production—the fastest-growing subscription network out there. If you find use for this show, subscribe for more like it at profitwell.com/recur.