April Dunford, renown speaker, author, and founder/CEO of Ambient Strategy, graced Recur 2019 with insight on how to make your market category work for you.
She's a marketing expert in the SaaS space, but ironically does not have a degree in marketing. She majored in systems, designs, and engineering. April said she landed her first job after college at a startup working in product marketing. She said her company got acquired and then her boss quit, leaving her in the right place at the right time. April was put in charge.
Although she didn't major in marketing, she had a natural knack and curiosity for it. April shared that she took many courses, where she kept coming across the idea of "positioning." Every time she asked, "Well how do we do it?" nobody seemed to have an answer.
April found the answer herself. She explained it all at Recur 2019. I'll breakdown key takeaways from her talk.
What does positioning mean?
Even though positioning is one of the most misunderstood concepts in marketing and business altogether, it defines how your product is the best in the world at providing something that a well-defined set of customers care a lot about.
"Mastery of this concept can mean the difference between success and failure of a product, sometimes the whole company," April said.
According to April, positioning is not:
A tag line
A point of view
A vision
A brand
Messaging
Marketing
Or a GTM strategy
She said all of these listed factors flow from positioning, but positioning needs to happen first. April shared this analogy at Recur: if everything we do in marketing and sales is the house, positioning is the foundation upon which the house is built.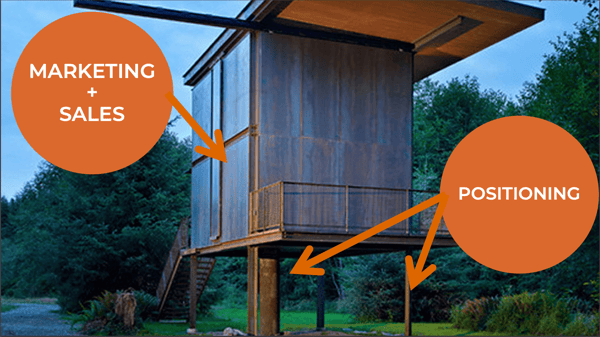 Components of positioning
Positioning is a lot like setting up context for your product. New products presented outside of their context are extremely hard to figure out. Even a hint of context can completely change the way we think about the product.
"A shift in positioning can completely transform the way we see a product," April said.
Positioning seeks to answer two fundamental questions:
What is this?
Why do I care?
April said research proves customers will use what they know to make sense of what they don't know. With that comes two major touch points: market categories and trends.
Market categories are important because they tell customers where to focus their attention in an already super crowded market. Positioning based on market categories and trends narrows down the competition, but more importantly, sets off an extremely powerful set of assumptions in the minds of customers about your product. If the assumptions happen to be true, great, you saved your marketing and sales team a ton of work. But, on the other hand, if the assumptions are wrong, then your marketing and sales team has to make a significant effort to undo the damage your positioning has done. Long story short, mastering your positioning is crucial.
The positioning process
While April was taking marketing classes, she saw this traditional positioning statement:
FOR (TARGET MARKET) (OUR OFFERING) IS A (MARKET CATEGORY) WHICH PROVIDES (BENEFIT) UNLIKE (COMPETITOR).
It was fill-in-the-blanks. Her professor told her you can achieve positioning just by filling this statement out. April was not satisfied and dug to find her own positioning process. From that original and traditional statement she drew five components of positioning: market category, alternatives, unique attributes, customer segments, and value.
Each of these components has a relationship to one another; everything depends on the customer's frame of reference.
Here is how the positioning process should flow:
Competitive Alternatives: You start with who your customers would compare you to. If you didn't exist, what would customers use?
Key Unique Attributes: What features/capabilities do you have that alternatives do not? The features your competition lacks is what makes you unique.
Value: What value do the attributes enable for customers?
Customers that care: Who cares about that value?
Market you win: What context makes the value obvious to your target segments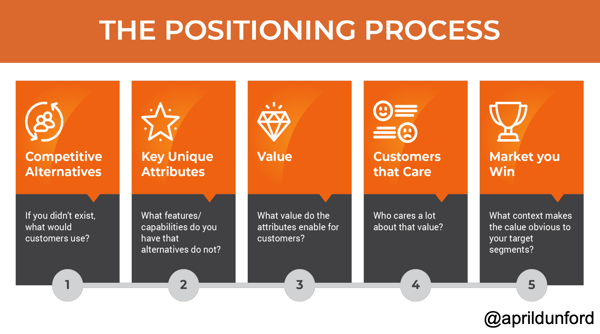 Final thoughts
As April says, successfully connecting your product with consumers isn't a matter of following trends, comparing yourself to the competition or trying to attract the widest customer base. It comes down to proper positioning. Even if your product has been in existence for a while, re-examining positioning is never a wasted effort.
This article is just a taste of April's knowledge on positioning. To gain deeper insight into positioning, you can read April's book, Obviously Awesome.