Can AMC Theatres On Demand learn from the demise of MoviePass? Appcues and Heap join forces, plus the newest member of the subscription club has arrived. Who could it be?
Your top subscription news
---
Online communities go subscription
We have another new member of the subscription class. That makes two in one week.
On Wednesday we were all about Sonos as the newbie in subscription speakers. But today we're looking at a different realm: online communities moving to subscription.
Julie Young—an augmented reality/virtual reality producer and researcher from LA, previously working on user experience at Snap Inc.—tweeted out: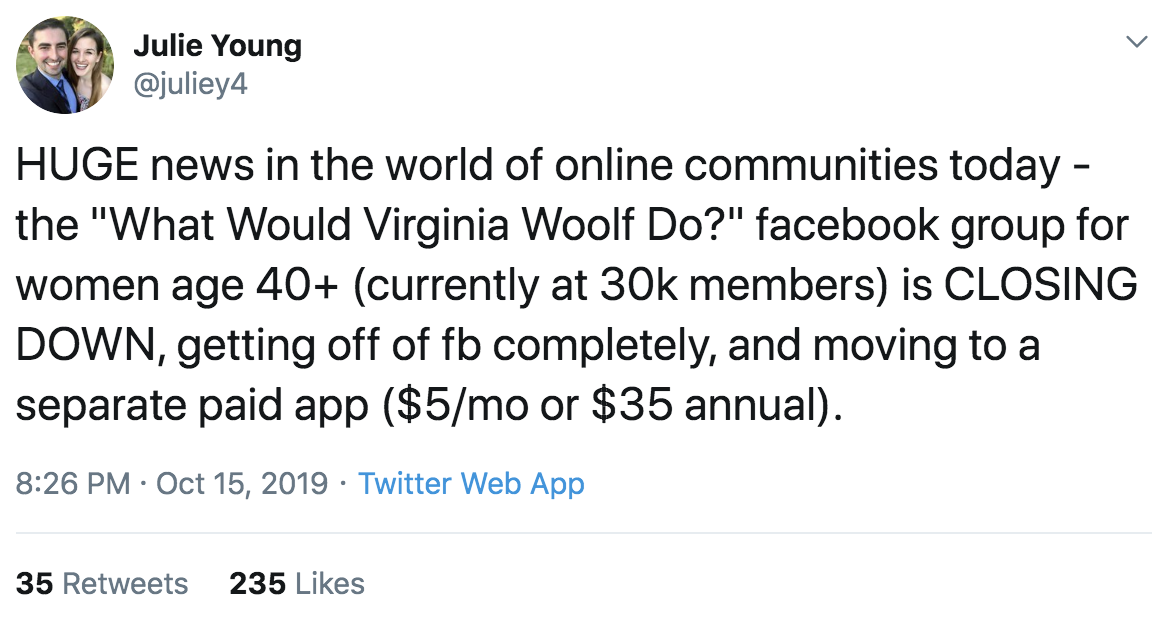 And she believes it's the beginning of a big trend: communities moving away from free platforms that mine their data, refuse to compensate admins and moderators, and provide no option for customization. She reminds us that online communities are basically a living, breathing, and interactive magazine. Some content is hyper-curated and people will pay for this, and likely more.
She's hopeful because the age of privacy is among us. Closed groups are on the rise. And companies taking advantage of unpaid admin labor could be over. Although I'm not part of an online community myself, I'm keen to hear what others are thinking of this trend. It shows another way to position a subscription, not just as a recurring product, but as a membership in a community. For online social groups, this is a pretty intuitive idea, but other brands can leverage this too.
It's kind of like how Equinox claims they're more than a gym. "We're a club."
And it leaves me wondering: Are paid online communities a sustainable business model? I want to keep this conversation going, so I need more input. Send your thoughts to abby@recurnow.com if you're in an online community and can weigh in here.
Shipping Is Just the Beginning with Appcues x Heap
Our friends over at Appcues, together with Heap, are co-hosting a night of learning and chatting on October 22. It's called The Art of Iteration: Shipping Is Just the Beginning. It's a night to highlight the value in constantly learning, improving, and iterating.
Zuora's Tien Tzuo is all about this sentiment (as are we) and actually lists it as one of his 9 Keys to Building Successful Subscription Business Models.
"The Subscription Economy has an infinite number of pricing options. Many companies typically start with a simple recurring pricing model, because you have to start with something. But markets can evolve quickly, and customers' needs will likely change over time."
Some relevant takeaways from Tien:
Keep pricing and packaging flexible and dynamic.
Consistently iterate on pricing models.
Gift your existing customers as often as possible and only raise prices on future customers.
But how does your company identify and decide what to iterate on, measure the impact of, and move swiftly on? Appcues and Heap have you covered, with panelists from Privy, HubSpot, and Indigo—plus snacks and drinks to boot.
Streaming is screaming with AMC Theatres On Demand
And it's "changing Hollywood," according to the New York Times.
We're seeing the AMC Theatres chain dip into the streaming space with on-demand movies.
Here's the rundown: AMC Theatres On Demand will offer about 2,000 films for sale or rent for 48 hours, in an iTunes-esque online video store. And our questions here are twofold:
Number one: Why?
Why does AMC think they can pull this off, when we quite literally just witnessed MoviePass fail (pretty miserably) at it? MoviePass essentially bucked under its own weight. Unlimited movies caused it to basically pay out for every single ticket.
Back in May, we tore down the pricing pages of MoviePass and AMC Stubs A-List in an episode of our Pricing Page Teardown. So we want to revisit it here. How did their pricing strategies stack up? How could MoviePass have potentially thwarted failure, and will AMC learn from it in its next endeavor?
(We'll visit question #2 in a minute.)
"You gotta know your cost structure... You have to understand how your costs scale," PC points out. "In a competitive market, use your competitor's energy against them."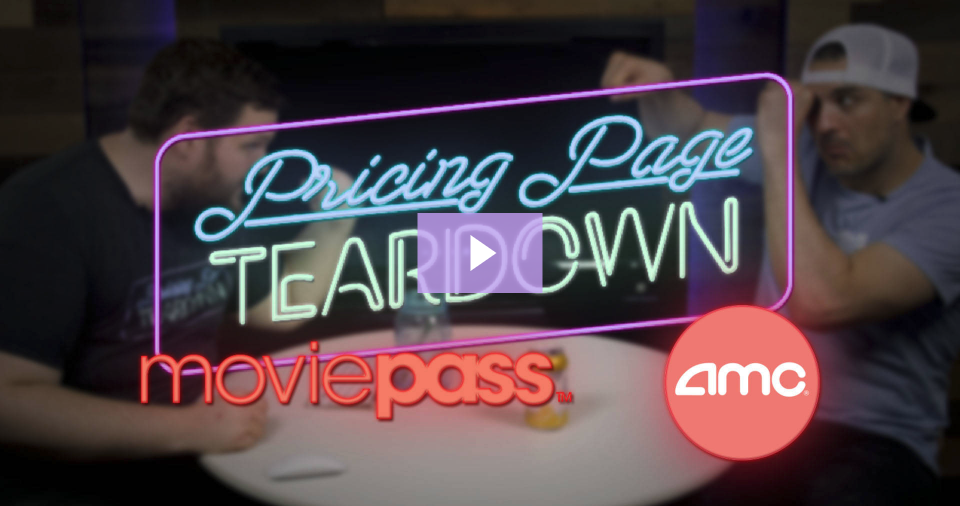 Watch the full episode of PPT: MoviePass vs. AMC here.
Now onto question number two, which revolves around tradition.
The New York Times points out that the movie theatre industry has long been at odds with online video. Bringing to light the question, "Why trek to theaters if thousands of movies are available at the click of a button at home or on your phone?" But I'm arguing that the tradition of going to the theatre, seeing a movie the day it's released, and paying an absurd amount of money on snacks and to butter your popcorn… will never die.


Weekend Wisdom with Leela Srinivasan
---
Heading into the weekend with wisdom. SurveyMonkey CMO Leela Srinivasan drops the knowledge on why she's so hellbent on feedback for marketing success, and how starting her career in the shower cleaner business got her headed for greatness.
---
That is a wrap for your October 18 subscription rundown. Send your teammates to recurnow.com to sign up for episodes on the daily.
If you have news to share—from product launches to opinions on the stories we share—hit me up at abby@recurnow.com and let's collaborate. We want to feature you, our neighbors in the space.