Today on the show, brand affinity amid a pandemic is apparently top of mind for many. So how can you make your brand top of mind as well?
Listen wherever you get podcasts:


How is the B2B SaaS market trending?
---
📈7 day +1.06% | 📈30 day +2.32% | 📈90 day +4.01%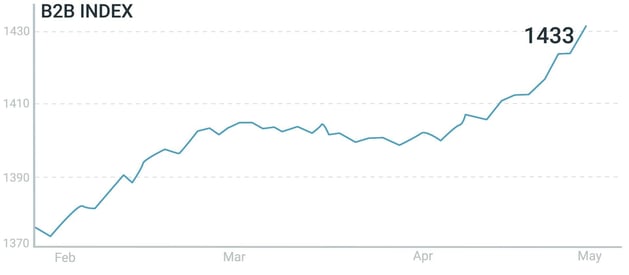 It's been an overall solid week for the B2B SaaS crowd—and we're still on the up. We've seen a steady increase in the overall index, up 1.06% over the last week. And over the last 90 days we're up just over 4%.
We've also seen new revenue for B2B continue to accelerate today, up almost 5% over the last 24 hours.
In B2B specifically, we've been protected a bit amid the crisis, because we're notoriously a second order impact vertical with lots of annual contracts.
We're holding onto that and hope you're climbing out of this at the same rate. Although we know you're ultimately going to have to make the tough decisions, we will continuously scan the B2B space to deliver you daily market trends to add into the greater calculus of doing so.
You can check your subscriber newsletter each morning for the latest.
How are churn and new revenue trending over time?
---
MRR LOSS -2.68%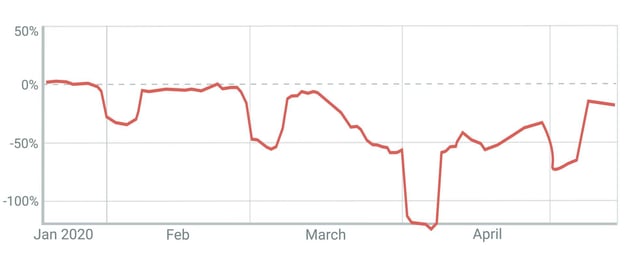 ---
MRR GAIN +4.94%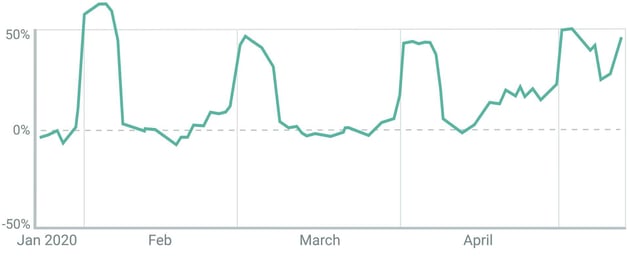 Remember to check your subscriber newsletter regularly for everyday updates to your B2B SaaS Index overall, plus a look at how MRR Gain (i.e., upgrades and new revenue) as well as MRR Loss (i.e., churn) are trending.
You can also share the data with friends, colleagues, and fellow industry players that could use it right now. Send me their email address to abby@recurnow.com and I'll get their name on the list. Or they can subscribe directly at index.profitwell.com.


Love, your brand
During my morning scan of Twitter, LinkedIn, and an influx of industry newsletters, I noticed a serious pattern: Founders, execs, and entrepreneurs are outwardly voicing their opinions on getting serious about messaging.
Because, "People want authenticity, connection & above all else, they want to feel you," writes Sergio Villaseñor, Founder of Elliot.
Elliot is a global commerce platform that claims to be "the anti-B2B brand you've been begging for." But why? Because Sergio says, "the old school B2B/Enterprise playbook is dead." And in 2020, building the brand is equally as important as building the tech.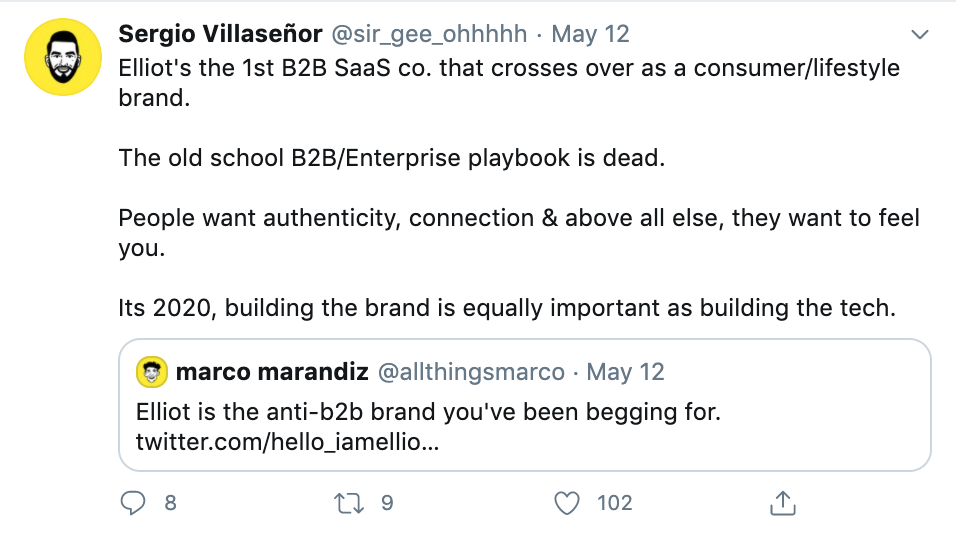 ---
In the same realm, I witnessed Dave Gerhardt, marketing master at Privy, formerly of Drift, take to Twitter with an equally hot take.

---
And another: B2B SaaS marketing leader Danny Asling posted to LinkedIn about the need to tell great stories.
---
"Stories are the backbone of every winning idea."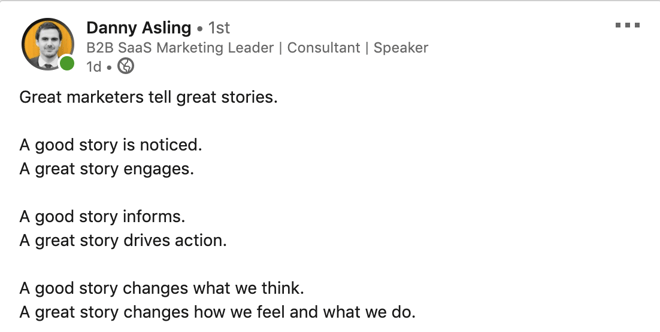 And since our ProfitWell crew knows quite a bit about affinity, good storytelling, and making your audience feel something, I wanted to take this opportunity to share our learnings, from years of building brand affinity, and the pros of doing so—because a pandemic feels like a better time than ever to foster a greater connection.
What's this concept about? Why do we care so much?
Brand awareness is who knows you, while brand affinity is who cares about you. Brand affinity is next-level because it's an audience of people who know your brand, they know your values, and can relate. Brand affinity is important because you're building brand advocates. The stronger the brand, the more brand advocates you have.
---
"Affinity relies on relationships and relationships take time."
---
Chris Savage, Co-Founder and CEO over at Wistia, the team behind the Webby-award winning series One, Ten, One Hundred, knows that brand affinity is not a growth hack—which I think is super important to point out here. He says investing in building a strong brand takes time. It doesn't happen in a day, a week, or even a month.
So, how do you build it?
What do you actually need to do to foster brand affinity?
As content continues to reign, building brand affinity requires creating bingeable content and marketing it like a media company. Chris says when you do these two things, you change how you interact with your audience, and the interactions with your brand.
Getting people to have affinity for your brand —actually recommending your product or services to their people — could be one of the worthiest investments for your future.
But what if you don't have the team, bandwidth, or budget?
How can you create brand affinity if you don't have a big team and an endless budget?
We understand this struggle at its core, and we're here for you—but maybe not with the answer you're looking for. Building affinity is definitely NOT a hack. It's a ton of work. And attaining that affinity is the exact reason we launched an entire network of shows—the Recur Network—specifically for our industry, with a hyper focus on finding the truth in this space.
As for budget, well we can relate: we're a small team. Yet we work tirelessly to get this content out, every day. When you hire a group that's dedicated enough and with the right skillset and values, you don't need an army to get this done.
Now, this can be done for any respective industry.
So what's the hesitation for other makers? Jay Acunzo of Marketing Showrunners points out two of the biggest offenders as: boring content and budget. But if you're setting out to find the truth, creating sophisticated content that your audience wants—to inform, to educate, to entertain—you can make this happen. If you're concrete in your advice and actionable in your asks, your audience will want to come back.
Jay actually wrote an article all about the ProfitWell plight to building brand affinity, and he outwardly claims: "Y'all. ProfitWell's topics are boring!" But with careful crafting and being genuine, even Jay can attest: We've built affinity from the bottom. And to our audience, this stuff is not boring. It's riveting. It's business-altering. It's the most foundational thing of all: it's the truth.
I will link to more resources, on building brand affinity, at the end of this newsletter. And remember: I'm always here to chat about this, straight from the content trenches. Ask me anything, to abby@profitwell.com.
🌞Now it's time to f

ree your Headspace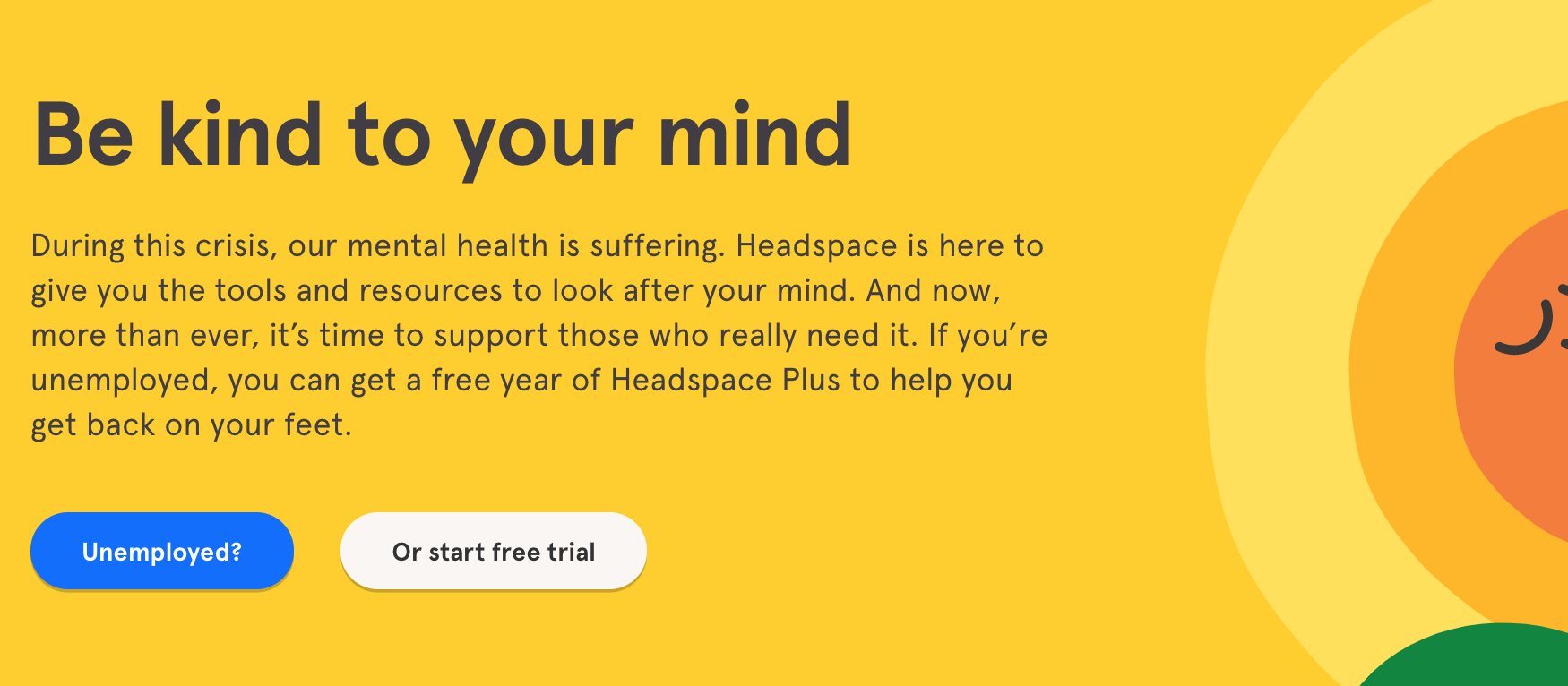 We're eyeing Headspace—the meditation app that promotes a happier, more well-rested lifestyle with an approachable, daily meditation—make its television ad debut, to offer unemployed Americans a free, year-long subscription.
The Headspace team is making the leap (to free) in order to promote the "Headspace Promise," a commitment to providing free mental health resources in times of crisis. All you have to do is fill in a form on Headspace's website, and you're in the clear. (And hopefully, your mind will be too.)
---


In the name of creating baller content, today's featured user is Soapbox, the simpler tool used for recording, sharing, and editing your videos in actual minutes—a product from the earlier-mentioned video moguls over at Wistia.
Soapbox is awesome because you literally just need a face and a laptop to get the video content cranking. It functions as a Chrome extension, with which you can record your webcam, your screen, or a split-screen view. The simplicity of Soapbox is an initial draw, no doubt, but they also offer advancements if you're looking to get a little fancy. Soapbox Station is a plug-and-play webcam studio that dramatically improves the quality of your Soapbox videos. Essentially, it functions as an all-in-one, tabletop video studio.
And right now, every Tuesday at 12 p.m. EST, Wistia Head of Production Chris Lavigne goes live to talk all things video production in our newly remote world, in a series called (Out of) Office Hours. Register to watch the next episode live →
Wistia is one of those companies nailing it on the head, always. (We're loyal users ourselves.). Their content is actionable, there's zero fluff, and it looks damn good in the process.
---

Extra resources from today's episode:
That is a wrap on your May 15 news. We'll catch you back here on Monday with more.
Remember, we're launching a weekly version of Recur Now, a newsletter with a roundup of the best in each week's news. If you want in on that, reply to me at abby@recurnow.com and I'll get you on the list.
This series is a Recur Studios production—the fastest-growing subscription network out there. If you find use for this show, subscribe for more like it at profitwell.com/recur.