Today on Recur Now, we've found some binge-worthy podcasts, plus the freshest products this Friday. Also, the five phases of software development and how an outdated IPO process has resulted in $171 billion worth of underpricing.
Your top subscription news
---
Software developers, unite
Changelog tweeted a solid Reddit thread for the software developers out there. It starts with a photo of a short-answer question, prompting the test taker to "name and describe the five key phases of software development."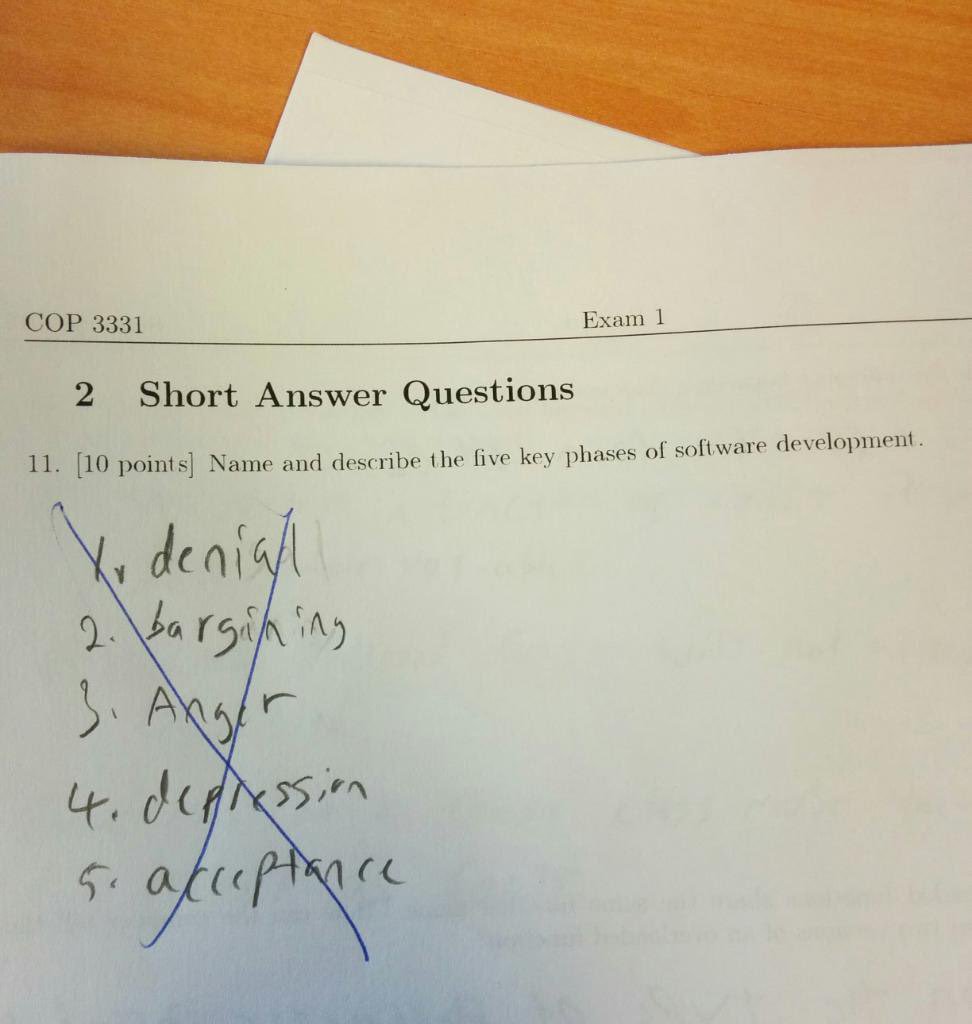 The test taker answers with: denial, bargaining, anger, depression, and acceptance—and the Reddit thread madness ensues from there.

Stripe takes numero uno
Y Combinator shares this year's Top YC Companies. And in the 101 YC alum, listed by valuation, we see Stripe holding spot #1.
"We put this list together to help potential employees, partners, and late stage investors get to know a wider set of YC companies."
The top ten:
Stripe
Airbnb
Cruise
DoorDash
Coinbase
Instacart
Dropbox
Ginkgo Bioworks
Gusto
Flexport
Get the full list here.
As TechCrunch reported with the updated list, "Valuation as a ranking metric has its faults, of course. It's a measurement largely of perception; a projection of a company's perceived potential, rather than a direct indication of how much a company is actually making at a given moment. When publishing last year's list, YC openly admitted that 'valuation is a poor way to measure a company's value in the short term.'"
That being said, it still provides us value. The list gives us transparency into which Y Combinator invested companies have held strong and which have the heftiest growth. The list combined equals a cumulative value of $155 billion.
Lyft launches driver rewards
We take a look at Lyft launching a driver rewards program to amp up its position in the ridesharing market—adding perks like cash bonuses, ride credits, and free or discounted tax services.
In November, competitor Uber launched a rider loyalty program, as well as driver loyalty with Uber Pro.
With the launch, Lyft drivers with a 90% or higher acceptance rate and a minimum 4.9 rating—which is considered Platinum or Gold—will have access to exclusive features. Things like the ability to see the estimated length of a trip (time and direction) before they accept the ride. Personally, I'm shocked this isn't already a feature, but hey, if Lyft wants to up its game, there must be something to hold over its drivers' heads.
Pivot the podcast
We've also had an ear out for the Pivot podcast by Recode and Vox Media, hosted by tech journalist Kara Swisher and the legendary Scott Galloway. This one provides insight from tech to business and politics, with unfiltered and sophisticated opinion.
They really dig into it all: Facebook's privacy fakeout, Uber being "disruptive and drunk," Peloton "selling happiness," and IPOs gone wild (recently getting pretty reckless with the WeWork saga, so you know we were tuned in to that one).
Head here to listen to episodes via iTunes.
Friday = fresh products
And it's another Fresh Product Friday, where we scout products we think are worth a shot. Here's what hit our radar this week:
Leave Me Alone 2.0

- When there's too much noise in your inbox (we're all in the same boat with this, right?), Leave Me Alone hopes to come to your rescue. With it, you can see all your subscription emails in one place and unsubscribe from them with a click. Clutter, be gone with you.


Glaze

- Glaze offers free illustrations to help you build out your products, brands, and presentations. We're always looking for visual inspiration, and I'm really into the palette here—from people and travel to business, teamwork, and technology. Check them out at glazestock.com if you're in the market for amping up your design digs.



Zenaton

- Zenaton—code control that flows within your apps—makes it possible to build and run event-driven processes within the product journey in days instead of months. Think: payment, booking, personalized communication sequences, ETL processes. Developers out there, we're keen to hear your thoughts on this one.
Deep dive

---
Invest Like the Best with Patrick O'Shaughnessy
Our very own John Mangini—Pricing Strategist to the stars—sent me this one. It's a podcast called Invest Like the Best and it's hosted by Patrick O'Shaughnessy. A particular episode that's super relevant right now—and was freshly published—is one featuring Bill Gurley, deemed Direct Listing vs. IPO.
"I've been spending a lot of time diving deep into how the IPO process works."
As you may or may not be aware, Gurley's a big name VC and investor. He's had a hand in the success of some huge operations: Grubhub, Zillow, Uber, Stitch Fix, Glassdoor, among others.
Mangini can attest it's a solid listen for anyone interested in direct listing vs. IPO and why any pricing jump in day one essentially screws all employees and founders.
"The core process and core way we go about pulling an IPO was designed four decades ago. And it hasn't been changed and it hasn't been updated for modern tools, modern algorithms, modern technologies. And as a result of that, it has resulted in... $171 billion in underpricing."
Check it out here via Spotify.
Weekend Wisdom
---
"By the time I was seventeen I ended up in jail twice."
Today, Chief Instigator (and good friend to the ProfitWell crew) Dan Martell drops wisdom through his past of hardships, and how entrepreneurship ultimately became his own personal development program.
---
And that's a wrap for your October 4 subscription news. Recruit your friends into the subscription know by sending them to recurnow.com to sign up for episodes on the daily. And hit me up at Abby@RecurNow.com if you have news to spread to the recurring revenue world, and we'll collaborate.