Drive subscription revenue while you sleep.
Revenue automation products that automatically reduce cancellations, optimize pricing, and give you accurate, free revenue reporting.
Used by the happiest subscription companies on the planet
Paddle acquires ProfitWell
We're building the most helpful brand in SaaS, by making products that "do it for you." So you can focus on your team, product, and customers.
Here's Why →
The truth is you have a lot on your plate when it comes to subscription growth.
Growing a subscription business is hard work (really hard). You only have so much time and you should spend that time focused on your customer and your product.
With ProfitWell, our goal is to take care of everything else when it comes to subscription growth.
Whether it's providing you with absolutely accurate subscription reporting and analytics for free or becoming experts in credit card failures and pricing strategy to automatically reduce your churn and optimize your monetization, ProfitWell exists to get you back to your customer and your product.
How do we solve for this?
We provide free reporting and analytics to help you understand where you're great and where you're not.
Metrics
Accurate, real-time reporting - for free
See All Features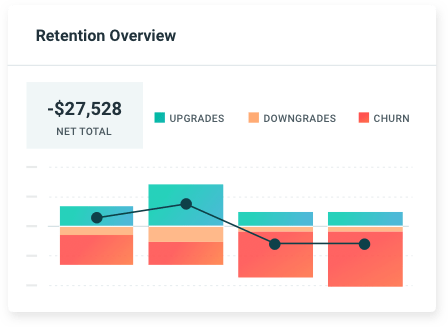 Benchmarks

See how you stack up against comparable companies in similar stages.

Mobile App

Stay alert on the go with ProfitWell's mobile app for iOS and Android.

Pricing Audit

Benchmark the health of your monetization and pricing strategy.

Retention Audit

Audit where revenue leakage exists and where you can increase retention.
22,000+
companies in over 100+ countries are growing their businesses with ProfitWell
Get started
We think about subscriptions more than anyone else on the planet.
Dedicated subscription expertise each step of the way
Our group of subscription economists work with you and are on call for any and all subscription growth questions - from acquisition and pricing to retention and engagement. We've seen it all.
Schedule some time
We know Subscriptions.
We study subscription businesses more than anyone out there. We then publish those findings and bake them into our products so we can all learn together.
More from our content
Ready for accurate, real-time subscription reporting?
Check out ProfitWell Metrics.